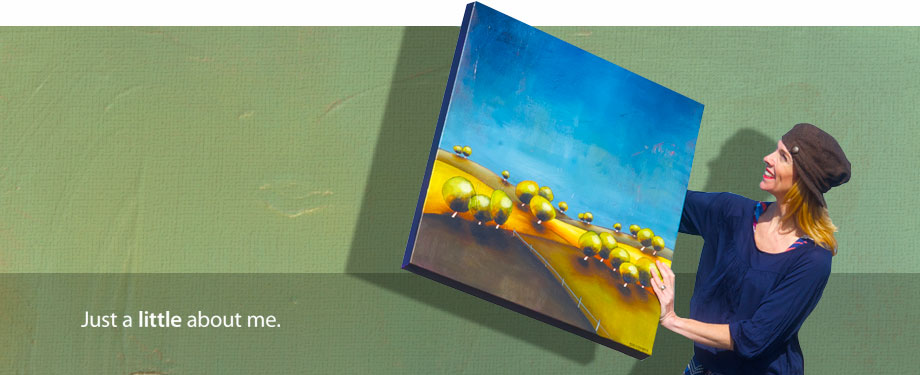 Although I unintentionally stepped into my artist role while working in telecommunications in London in the late 1990's, (as nicely described by Susan Pevaroff Berschler in The Philadelphia Inquirer) by 2000 I was working hard to paint what I saw around me, trying to replicate objects as closely as possible to 'real-life'.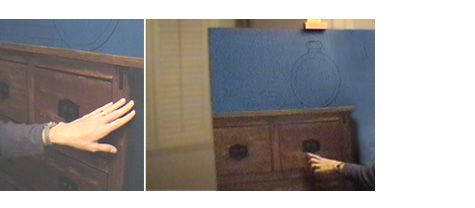 Here I am in 2000 exploring a 'still-life' in oils. (I still have
that chest of drawers, paint blobs and all…)
Then the first of my little monsters arrived, and things changed. And I'm not just talking about diapers – gone was the freedom to spend hours in my studio fiddling with oil paint – not to mention the waft of paint-thinner threatening my baby and husband to evacuate our home – or spending the day visiting local galleries and attending lectures.
Nope. I was now a busy mom.
But I loved messing around with color and canvasses, and it wasn't long before I had shifted to acrylics and painting goofy little pictures for my daughter's room, a step that set me on my whimsical path.
And when local moms began to ask me for paintings for their kids, it was only a hop, skip and a jump to expanding my series and ideas, which to my delight have been accepted and enjoyed by buyers from around the world, adorning walls in homes, hospitals, corporate-lobbies, and restaurants.
I couldn't have been luckier, or more grateful to the many wonderful folks who enjoy my work. Thanks to all of you.

Here are just a few of the galleries who have shown my work: Art and Soul Gallery, Burlingame, CA. Island's Edge Gallery, Big Island, HI. Xanadu Gallary, Scottsdale, AZ. Sherrus Gallery of Fine Art, Northville, MI. MJ Schaer Fine Art Gallery, Napa, CA. Arches Gallery, Healdsburg, CA. Octavia Haze Gallery, San Francisco, CA. RadArt, New York, NY. Pieces Gallery, Sanoma, CA.